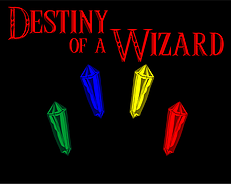 Destiny of a Wizard
Destiny of a Wizard Now on Icho.io!
---
Destiny of a Wizard is now released on Itch.io! I will be releasing the second at a later date. For those who don't know me, I am CJ Fantuzzo with UltimaCJ Productions. I began working with RPG Maker VX ace about four years ago as a developer and have been working on projects since. I'm here to share my love of video game creation and bring smiles to those who love adventuring.
To learn more about Destiny of a Wizard, please visit our site at: http://www.ultimacj.wix.com/ultimacjproductions
You can also visit our official Facebook page for more information as well! http://www.facebook.com/ultimacjproductions
If you have any questions, feel free to drop a line and I'll get back to you. Thanks for viewing!